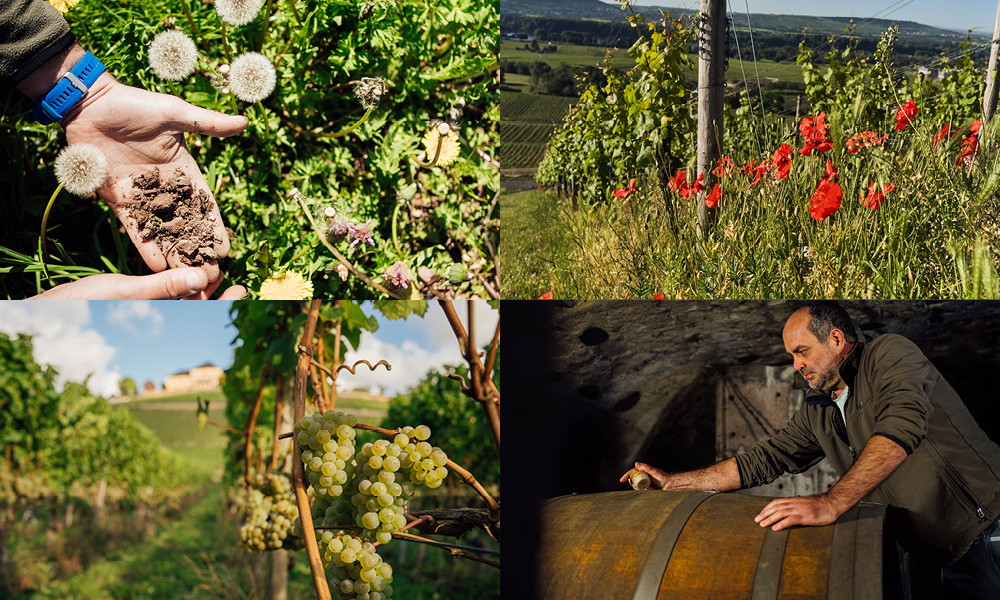 2022 is considered the first year of conversion of the entire vineyards of Schloss Johannisberg to organic/organic viticulture.
The start of 2022 was rather warm and dry. In March, the low precipitation conditions coupled with very many hours of sunshine continued. This had a noticeable effect on vine development.
Fortunately, there was no early budbreak as in recent years. It did not set in until April 22, which was in line with the long-term average and about 3 weeks later than in 2020. It was the fourth sunniest spring since the 1890 weather record, avoiding the risk and fear of late frosts. Starting in May, temperatures were about 2.5°C above long-term averages. This resulted in an acceleration of vine development.
The beginning of flowering was on June 02 and thus one week before the long-term average. Due to the persistent drought and the above-average warm temperatures during the entire vegetation period, ripening already started on August 6, and an early harvest was again in sight. Due to the drought, young plants could not have been maintained without irrigation. For this reason, we invested in drip irrigation systems in the vineyard several years ago.
Just in time for the beginning of the harvest in mid-September, a prolonged rainy phase started. The options were an early harvest with physiologically not optimally ripened grapes or waiting to gain ripeness with the risk of yield loss. We chose to wait and it paid off for us because it resulted in high quality grapes. However, we were unable to produce noble sweet wines such as Beerenauslese, Trockenbeerenauslese and Eiswein in the 2022 vintage.
Thanks to the outstanding efforts of our harvest team, we were able to harvest great qualities and bring them into the cellar despite the challenges, through selection.
The conclusion of the year 2022 could be: No year is like the other. There are always new challenges to master, and the result is a great product in the bottle.