THE FIRST RIESLING WINERY IN THE WORLD
SCHLOSS JOHANNISBERG
Wine has been cultivated at Schloss Johannisberg for 1200 years, exclusively Riesling since 1720. This is the birthplace of one of the oldest and noblest grape varieties in the world. The long history of Schloss Johannisberg brims with passion, responsibility and pride allowing the production of outstanding Riesling and inspiring people to make it.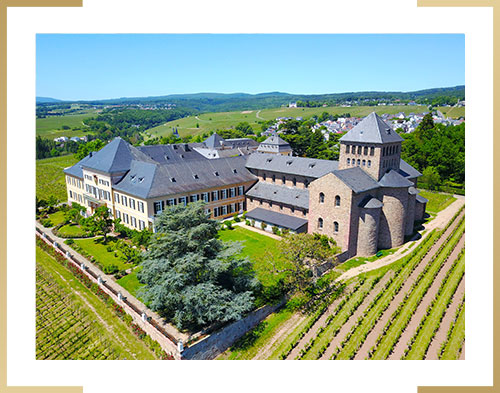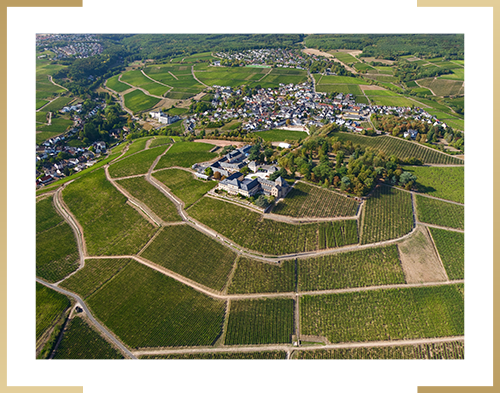 SCHLOSS JOHANNISBERG TERROIR – THE FUNDAMENT FOR OUR TOP QUALITY
Fifty hectares, facing exactly south. A quartzite hill in front of the Taunus mountains. With an inclination of 45 degrees, the mountain extends up to 182 metres above sea level and offers the grapes perfect sunshine. The Schloss Johannisberg terroir combined with our passion for top quality form the foundations for exceptional wines!
50th PARALLEL NORTH
Schloss Johannisberg's vineyard is located right on the 50th parallel north. The large differences between temperatures during the day and at night are particularly beneficial for promoting the aromatic and taste components of the grapes.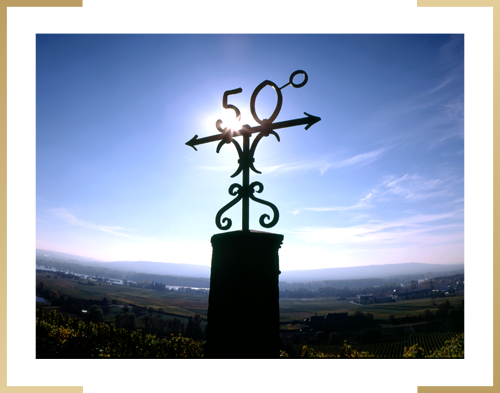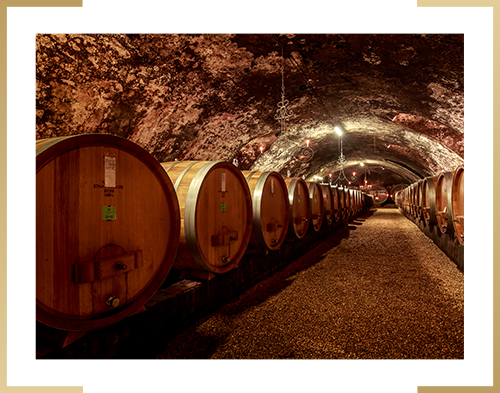 BARRELS FROM SCHLOSS JOHANNISBERG
Our own forest with three hundred hectares lies to the north of Schloss Johannisberg. The wood from the oaks native to the area is used as a raw material to produce the wooden barrels that we use in our wine production. The natural texture of the wood, its structure and ingredients influence the character and quality of our top Riesling.
BIBLIOTHECA SUBTERRANEA
In the heart of the underground palace cellar is the famous treasury of Schloss Johannisberg – the 'Bibliotheca Subterranea'. About 25,000 precious wines are stored in the 900-year-old abbey cellar. This cellar has ideal conditions for our valuable wines to mature over centuries. The oldest is from 1748.